Nov 20th, 2014
Dear Friend of the What If? Foundation,
Four weeks ago, as I helped pass out plates at the food program, there were hundreds of girls and boys sitting shoulder-to-shoulder awaiting their meal.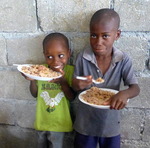 Most were under 12. Mothers and their babies sat off to the side, where it was a little quieter.
As the Na Rive cooks dished up the day's food — paid for by donors like you — the little ones waited as patiently as they could, restless with hunger. This meal was "tout bagay," they told me.  "Everything" for them. "If it weren't for this program, I would have no food today," Walenton whispered.
Florencia, a ten-year-old, told me she loves the rice with bean sauce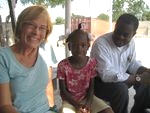 and has been coming "as long as I can remember."
With Thanksgiving near, in the spirit of gratitude and sharing …
I invite you to help us keep funding these life-giving meals by clicking below. 
It's been almost 15 years since our partners in the Ti Plas Kazo neighborhood of Port-au-Prince served the first food program meal.  Walenton, Florencia and most of the other children who gather to eat every weekday weren't even born then.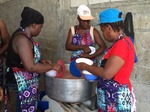 But thanks to your loving support, the seeds planted all those years ago have grown into a vital community-based program that provides nutrition and hope for the most vulnerable, day in and day out.
Your support this holiday season will also fuel a vibrant education program that includes school scholarships, an after-school program, and summer camp.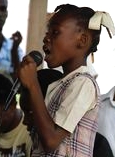 "We are building the next generation of Haitians," Lavarice Gaudin, Na Rive's Program Director proudly shared.
Veronica told me she loves math and dreams to be an engineer. "I saw what happened during the earthquake. Haiti needs good houses, well engineered."
Vanessa said she wants to be a psychologist. "The earthquake caused so much trauma.  I want to help people have a better life." 
Other scholarship recipients were active in Na Rive's economic development club, which just launched its first community cooperative selling small bags of Haitian rice.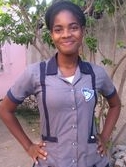 Paula summed it up when she said, "Students are the hope of the world."  Indeed.
Download your copy of our Fall Flyer — our attempt to capture the spirit of such remarkable people.
Throughout my trip, my heart was touched over and over again by the children – by their resilience and courage. I was also deeply inspired by our partners – the members of Na Rive – whose vision, devotion, and innovation have developed the programs we fund into powerful vehicles of hope and opportunity. "Little by little, child by child, we are helping transform the community," they told me. 

And each day I was in Haiti, I felt deeply connected and grateful to you, knowing that these programs would not exist without your generosity and compassion.Thank you for your support this holiday season, for your prayers, and for believing in the power of small steps. 

"Piti piti na rive", little by little we will arrive,  


Margaret Trost

Founder, What If? Foundation
---