Jun 19th, 2014
Dear Friends of the What If? Foundation,
I recently returned from Port-au-Prince, Haiti. The sight and sounds of over 1,500 children eating at the food program, scraping their bowls for every last grain of rice, are still very much with me and inspire me to write to you today.
There's one little girl I can't get out of my mind.
She's two years old and comes to the food program with her 10-year-old brother. They walk hand in hand from the tent camp next door, where she was born, and where they live with 32,000 other people. Post earthquake housing is scarce and most families living in the camp are losing hope that they will ever live in a house again.
Thanks to you and our partners in Haiti, this 2-year-old (picture to the right) and her brother and over 1,500 other children have been able to count on a nutritious, hot meal every weekday.
With hunger a daily reality for so many who live in and around this neighborhood, we ask for your ongoing support. Please help us sustain this crucial program as well as the education programs we fund by sending a donation today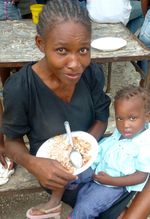 In addition to individual donations, we are looking for other nonprofits and faith communities that can help support these programs. If you have any connections or ideas, please contact us. We are committed to forging a sustainable solution to meet this ongoing need.
As you'll read in our 2013 Annual Report, the resources that we receive and direct to these programs are used extremely effectively. As Na Rive Program Director, Lavarice Gaudin, said last week:
"Our partnership is unique. Many agencies arrive when there is an emergency, but then they leave. The What If? Foundation and its donors have been with us for 14 years. We are a model for partnership and, together, we are preparing the next generation of Haitians."
It is truly a unique partnership, fueled by love and generosity and a shared vision to provide hope and opportunity to these children in Ti Plas Kazo. Thanks to each of you and everyone at Na Rive, we are making a difference, one child at a time.
It poured when I was in Haiti almost every day. Torrential rains turned the roads into rivers. Mud was everywhere. But that little girl came to the food program each day in a dress that hermother had washed to perfection. She came in anticipation of the meal that is helping her grow strong and healthy despite her circumstances in the tent community – a meal made possible thanks to What If? Foundation donors.
On behalf of our founder, Margaret Trost, the members of the What If Board of Directors, and our partners in Haiti, I thank you for your ongoing support, your prayers, and your encouragement.<


Suzanne Alberga
Executive Director, What If? Foundation
P.S. Our Monthly Giving Circle is another way to give to What If. Click here for more information.
---