Mar 20th, 2014
Dear Friend of the What If? Foundation,
As a result of a severe drought in Haiti, the number of hungry children coming to the food program has increased dramatically. Over the last month, our partners have served an average of 1,600 meals/day every Monday -Friday.  That's 8,000 meals/week – 2,000 more than "normal." And there is no sign of the numbers going down soon.
We need your help to pay for these meals. 
This week marks the 14th Anniversary of the food program, which has served as a critical refuge of hope and nourishment year after year. To honor this anniversary, we are thrilled to share that we just received a $5000 matching gift from a longtime donor!
This means that every dollar you send between now and the end of the month will have twice the impact. Your donation will provide twice the number of meals.
The Na Rive cooks are doing all they can to make the meals stretch during this drought. They've adjusted the recipe and are serving smaller portions, but sometimes there is not enough and children leave the food program without eating.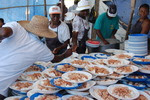 "There are crowds of children coming.  When you see them, and they get here, and they have nothing to eat and the tears come out of their eyes because there is nothing left, it hurts you from the bottom of your heart. We keep praying. We believe in miracles.  We work today and do what we can. It is not easy. We do not know what tomorrow brings."  Lavarice Gaudin, Na Rive Program Director
"This food program means so much for the people here.  It is an anchor for the community.  For 14 years it has helped make thousands of children healthier.  It has helped create stability in the neighborhood and has offered hope during such difficult times. Thank you to all the What If? Foundation donors for their love and hearts and all they are doing to help feed those who are hungry."  Lavarice Gaudin, Na Rive Program Director
Thank you for your support of this matching gift, for forwarding this email on to your friends, and for holding What If, Na Rive, and the children we serve in your heart.
With love and gratitude,
Margaret Trost                                          Suzanne Alberga
Founder, What If? Foundation                 Executive Director, What If? Foundation
---