Surviving hurricane season
Posted Sep 25th, 2017
Dear Friend of the What If Foundation,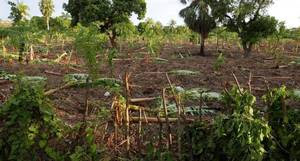 We are so grateful that Haiti was spared the worst of Hurricanes Irma and Maria. It sounds as though all of our friends in the Ti Plas Kazo community are safe, and there has been no damage to the Father Jeri School building. It could have been so much worse.
But challenging times lie ahead. Last week Hurricane Maria struck a familiar path through northern Haiti, causing severe flooding that left three dead while decimating any crops that were left after Hurricane Irma hit two weeks ago. The farmers there are still recovering from last year's Hurricane Mathew; now the topsoil has been washed away, and the ground is so saturated that replanting will be a struggle. Food prices are rising for the entire country as a result, adding to the hunger so many families already face. And hurricane season isn't over for another couple of months.
In times like these, we remember the motto of our friends: piti piti na rive. Little by little, we will arrive. It is a beautiful day in Port-au-Prince. We count our blessings today and say a prayer for a better tomorrow.