Happy campers at the Father Jeri School
Posted Aug 10th, 2017
Dear Friend of the What If? Foundation,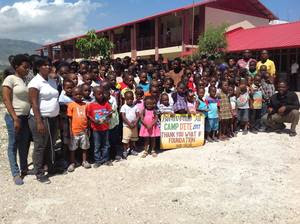 It's summer again, and we've got a happy group of campers.
While their parents are working hard in the heat of Haitian summer, these 485 children, ages 3-19, spend the day painting, cooking, sewing, knitting and learning computer skills — along with a host of other fun and valuable activities. Every camper also receives a nutritious lunch and plenty of time to play games with their friends.
What If has funded the summer camp since 2003, but this is the first year it has taken place at the Father Jeri School. And while it has been a beloved program since the beginning, both campers and staff report that it's even better in its new location.
"We are all enjoying camp at the school. Each activity has its own dedicated classroom now, so there are fewer interruptions and more space to concentrate on learning. The children are thriving!" says Program Director Lavarice Gaudin.
Another wonderful first is the energy and involvement of new Father Jeri School teachers. Some are helping with the summer camp classes, and others are providing exam prep for Father Jeri students who need the extra help. Seeing the students in summertime gives the teachers fresh perspective to take into the next school year.
But amid all the newness, one thing remains constant: the enthusiasm of the kids. Some of the older campers have been attending since they were little. They love it so much that they keep coming back — to learn something new, help with the younger children, and eat a nutritious meal every day.
Summer camp may seem ordinary to those of us who live in the US, but it's impossible to overstate how special this program is in Haiti. Positive learning environments are inaccessible for most families during the school year, much less the summer.  Knowing that their children are safe, nourished and happy means everything to these parents.
It's your generosity that makes camp possible. Thank you for all that you do to support the children of Ti Plas Kazo. 
I hope you and your family are enjoying your own summer fun.
With gratitude,

Suzanne Alberga
Executive Director
whatiffoundation.org